SAN DIEGO LANDSCAPE CONTRACTOR
Your dream garden.
​
Our professional design and installation.
Your dream garden.
​
Our professional design and installation.
SAN DIEGO LANDSCAPE CONTRACTOR
SCHEDULE A CONSULTATION (619) 222-0979
FREQUENTLY ASKED QUESTIONS
How do I get started?
---
1) Call us at (619) 222-0979 or fill out our contact form. 2) Schedule a consultation to discuss your needs one-on-one. 3) Receive a detailed proposal for the work you desire. 4) Sign the proposal contract. Work begins!
---
What is a proposal? Is it like an estimate?
---
A proposal is more detailed than an estimate. It's a comprehensive contract describing all work to be done, including materials needed, timeframe and the total charge. Upon request, we also offer a hand-drawn illustration of your design. Like any other home improvement project, redesigning a landscape requires extensive planning, preparation and research. After discussing your project needs, we will evaluate your current irrigation system, source out high-quality materials, including plants that work best in your yard, taking into account its microclimate, soil conditions and sun exposure.
We do this for all of our clients and every client appreciates the amount of time and effort spent on their project.
---
What is CT Scapes' specialty?
---
CT Scapes specializes in custom "design-build" landscape services. Hiring one company to do both the design and installation can simplify the process and save you money. Our team of skilled professionals take pride in all types and aspects of landscape upgrades, such as hardscapes, softscapes, masonry, concrete work, lighting, carpentry, and water features. We also have decades of experience with a variety of garden styles, including drought-tolerant/waterwise, succulents, Japanese/Zen, country gardens, xeriscapes, edible, permaculture, tropical, kid-friendly, dog-friendly, chicken-friendly...you name it, we can do it! In addition to total landscape renovations, we have extensive experience in reliable maintenance and repair, and can expertly address a variety of landscaping concerns -- from faulty irrigation and pests/disease to tree trimming and seasonal clean-ups.
---
Can you tell me more about CT Scapes' background?
---
CT Scapes is owned and operated by Charles Tracht, a licensed landscape contractor. Tracht has worked as a professional horticulturist for more than 20 years. He started his training at the world-famous Bahia Resort & Hotel in Mission Bay. After mastering the fundamentals of garden care, Tracht became a disciple of renowned German horticulturist Sinjen (see video below). It was this experience that really made Tracht's passion for gardening blossom. From Sinjen, Tracht learned how to create gardens that radiate an "organic" feel, making skillful use of graceful curves and fluid transitions. With Sinjen's wise teachings under his belt, Tracht started his own landscaping company, able to do most anything in a garden -- from installing water-wise irrigation systems to designing garden retreats that are true "conversation starters." Tracht's passion for plants shows: He refers to plants by their Latin names, his hands are calloused by the sun, earth, and water, and his clients glow with pride when they talk about their gardens. In his spare time, Tracht is a nurseryman, nurturing a variety of plants and trees, many of which he's grown from seed.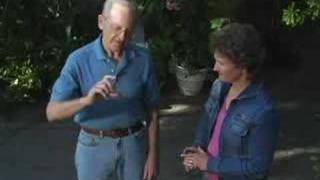 Chip owes a debt of gratitude to his mentor, Sinjen. Here's a video profiling the master gardener himself (Source: A Growing Passion).
---
What happens during a consultation?
---
A consultation takes place at your property, where we meet one-on-one to discuss your landscaping needs, ideas and questions. Consultations typically last about an hour.
---
What should I know about budgeting for a landscape project?
---
It can be challenging to come up with a budget for landscaping if you've never done so in the past. According to the National Association of Realtors, professionals recommend budgeting 10% of your home's value. They also remind us that a well-planned landscape can increase your home's value by 12.7%. Giving us a clear, realistic budget enables us to help you determine the order in which you can implement your project ideas. We recommend making a list of "needs" and "wants" to help you prioritize.
---
Do you do commercial landscapes?
---
Yes! In addition to serving homeowners and investment property owners, we have experience in working with homeowners' associations, property management companies, apartment complexes, schools, and private businesses.
---
What kinds landscape features do you install?
---
We have extensive experience with a wide variety of outdoor features, such as patios, porches, walkways, retaining walls, fences/gates, trellises, arbors, sitting areas, stonework (such as dry river beds), water features, fire pits, lighting, irrigation systems (including drip), water harvesting tanks, and, of course, lush and living softscapes (plants!). Do you have a flock of hens in your backyard? We can even build chicken coops from scratch!
---
Do you use synthetic pesticides?
---
For everyone's health and safety, we do not use synthetic fertilizer/pesticides. When pests are a problem, we do our best to find non-toxic solutions.
---
---